Telephony Easter Eggs in Stranger Things Season 4
I hate spoilers – no matter how minor. No spoilers here. But if you are planning to watch the show, don't read this yet.
I'm a huge fan of telephony Easter eggs, and I'm finding them more and more. The old '555' numbers are so jarring and cheesy, and telephone services are so inexpensive nowadays, that I think movie/TV studios are investing in real telephone services to compliment their shows. As I mentioned in previous posts here and here, I found real telephone numbers in Reacher, Don't Look Up, Better Call Saul, and now Stranger Things Season 4!
And I'm not much of a TV viewer – these are just from the shows I have watched. Have you noticed others? Please let me know!
Easter Egg 1 – Surfer Boy Pizza
Anyway, in Stranger Things, at one point we see this coupon: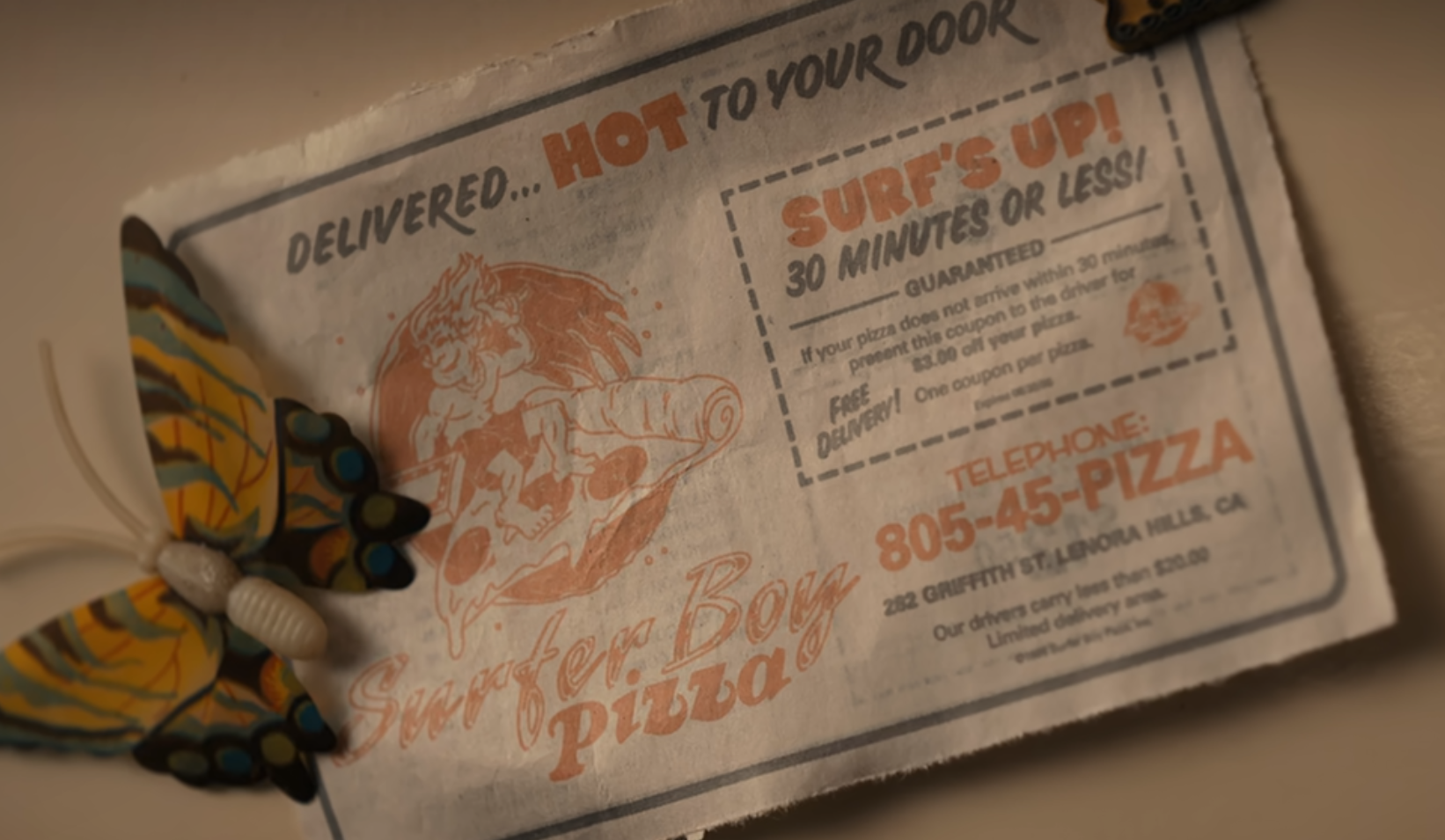 That telephone number in the ad, 805-45-PIZZA, is a valid telephone number 805-457-4992. This telephone number also appears on the side of the Surfer Boy Pizza van. At first I had two concerns. One was area code 805. I was afraid it was "new" but it's okay, it was assigned in 1957 when 213 split in Southern California (the Ventura/Santa Barbara area). I was also afraid the 'Z' wasn't an official letter on the telephone in 1980s, but again, that was okay also. Back in the old days, the Q and X were not on telephones (the numbers 2-9 corresponded with 24 letters of the alphabet). They also made sure the second digit of the prefix was a valid digit 2-9, which was a rule in the 80s. Well done, Stranger Things Production Crew!
But what if we call it? Well, we are treated to Argyle answering the phone as he did in the show:
The public CNAM information for this number lists San Luis Obispo as the location, which fits with the show. The carrier is Onvoy – which is the carrier for all of the other Easter Eggs I've found so far. Is this Twilio?
Information about number 18054574992:
CNAM: SAN LUIS OBS CA
LRN: 18058170993
State: CA
Ratecenter: SNLUSOBSPO
CLLI: SNLOCA01XFX
LATA: 740
OCN: 649C
Company: ONVOY, LLC – CA
Prefix_Type: CLEC
Easter Egg 2 – Nina's Digits
At one point in the show, our heroes discover a telephone number. It is revealed on the screen – super obvious we should see it.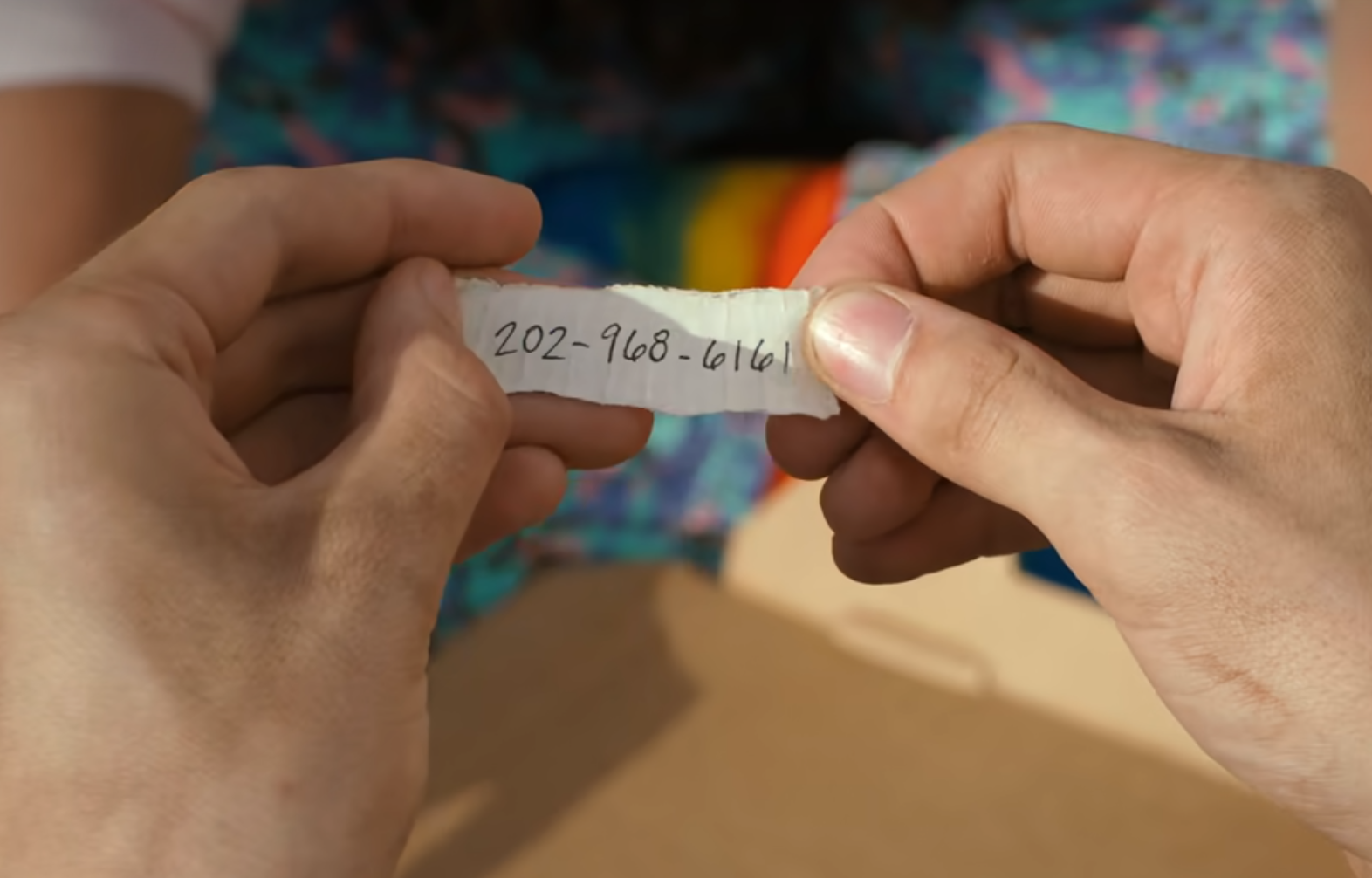 It was also spoken out loud and we could watch the fingers punch it out on the phone. It's a Washington DC telephone number, 202-968-6161. When you call this, you hear some pseudo-modem tones. It's not really a modem, but close enough for us to think of computers. The recording repeats a few times and eventually hangs up after about two minutes.
Again, the show's producer's obtained a telephone number that was valid in the 1980s. This was Washington DC's telephone number in the 1980s, and the second digit of the prefix is 2-9. I tried to find a reason for the 6161, but nothing is popping out. There is a White House recording of LBJ numbered 6161, but it doesn't seem related. It looks like a 'cool' number though. If I were searching for available numbers for my TV show's Easter Egg, I probably would have picked it also. Netflix producers – if you care to share the story?
The public CNAM for this number lists Washington DC and again, Onvoy.
Information about number 12029686161:
CNAM: NINA
LRN: 15713500993
State: VA
Ratecenter: WSNGTNZN19
CLLI: VINNVACBDS0
LATA: 236
OCN: 138E
Company: ONVOY, LLC – VA
Prefix_Type: CLEC
As always, if you know of Telephony Easter Eggs please let me know! I love this trend of using non-555 numbers in these big budget productions.
And to repeat my earlier offer – if any of you want to make a responsive chat-bot of your show's characters, I am happy to host it at the Jolly Roger Telephone Company. I can add a whole new level of interaction between your viewers and your production.
Roger