Click Here for the flowchart PDFs
One might argue that telephone systems do only one thing. They route calls. In the process they turn lamps on and off, and they make telephones buzz and beep. But the only point is to route voices from point A to point B.
If you've been working with Avaya Communication Manager for a while, you have been exposed to AAR and ARS routing. And you hopefully have a fair grasp of how it all fits together. But there are a whole lot of decisions that are made when routing outbound calls. And if you're new to Avaya, it might seem overwhelming to troubleshoot routing issues. So here are four pages of flowcharts that, based on my experience, are the most common configuration issues you'll see when managing your telephone system. Click Here for the flowchart PDFs
Page 1 is a flowchart of the digit collection. This is what the CM does to collect the dialed digits, translate them as necessary, and select a network (AAR vs. ARS). Digits can be translated many times and re-pointed to different networks. Once this process is complete, the logic continues to page 2.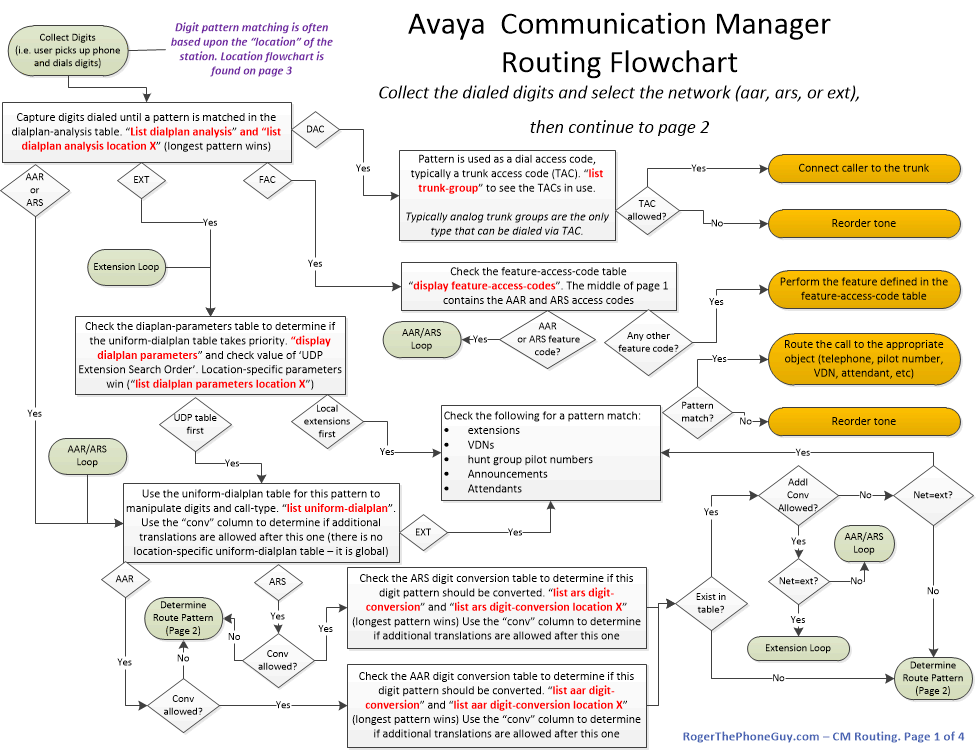 Page 2 is the process of using the final dialed digits (and station's location) to select a route and a trunk group. There are many location and facilities restriction level checks here. And there is even more digit translation that can take place during this process. Once a trunk is selected and the call delivered, this may not be the end of it. Look Ahead Routing may pull the call back and try again.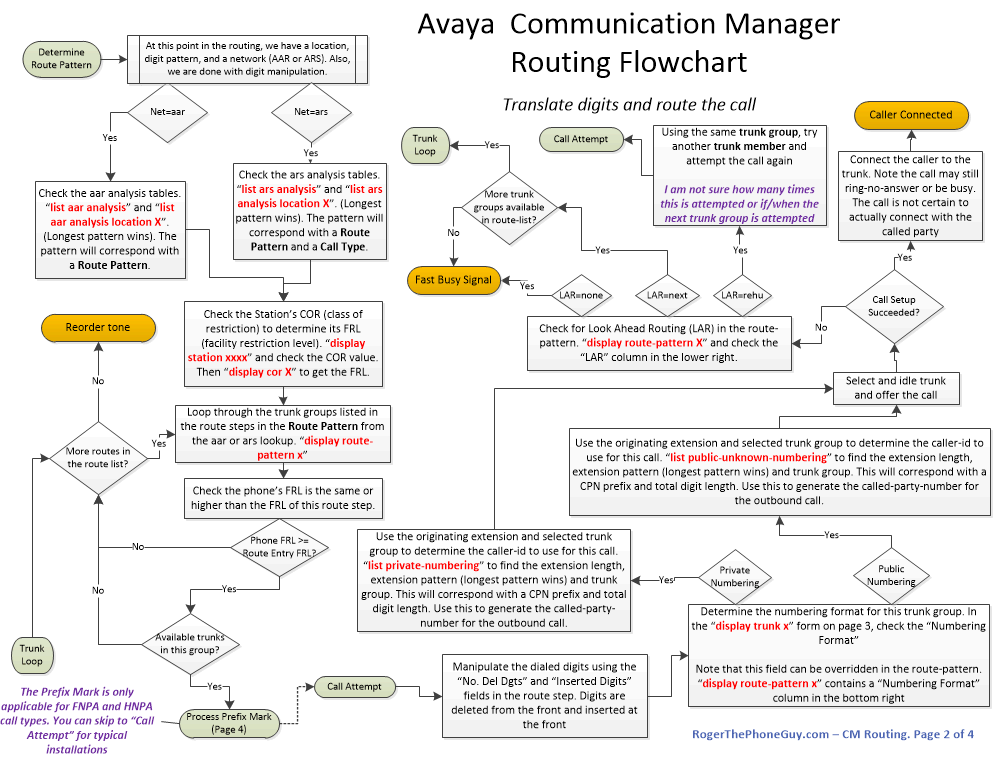 Those two pages compose the primary routing logic that you will use in your typical troubleshooting. However, many decisions are based upon the calling party's location. It may be obvious to you how the CM know's the station's location. But if things get strange, you can see how the CM associates a station to a location on page 3.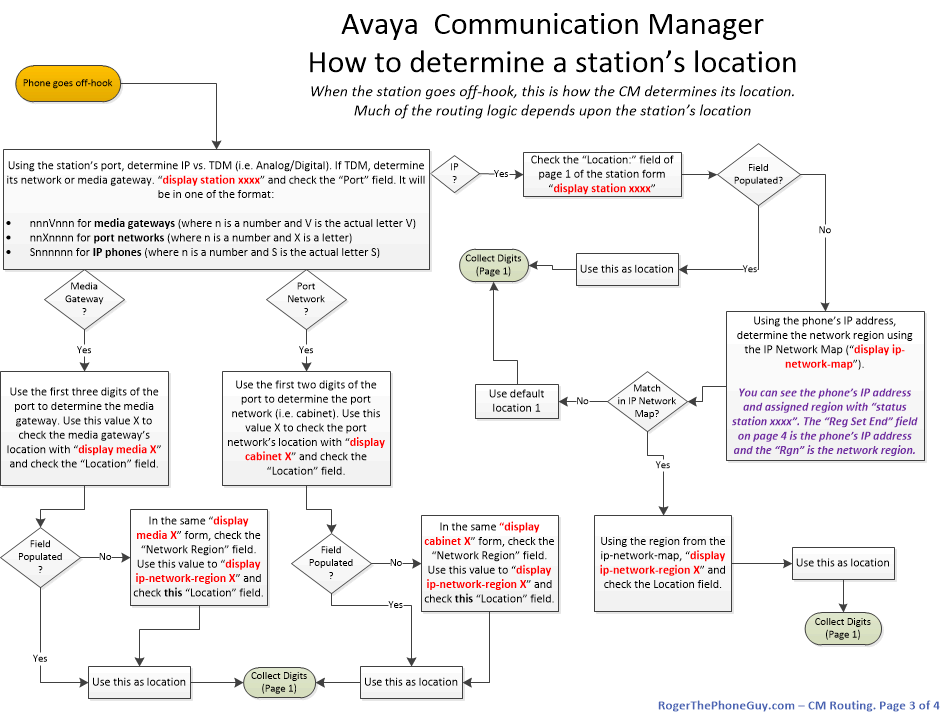 And lastly, there is one major headache associated with the "Prefix Mark" in a route pattern. Prior to 1995, there were many, many dialing rules associated with seven digit dialing, one plus seven digits, ten digits, etc. I remember living in a small town in the California Bay Area, and to dial Concord (over the hill), I had to dial 1+seven digits. Then when the area code 415 was split in to 415/510, we could dial 10 digits between them. Unfortunately, if you dialed 1+10 digits, it would be charged as a long distance call. All this went away in 1995 when the North America Numbering Plan was implemented. It is much easier to route calls now. But there is still the dreaded "Prefix Mark" that may still be in your routes. This causes havoc with the dialed-digits that are sent to your carrier. Page 4 is a summary of how this prefix mark works.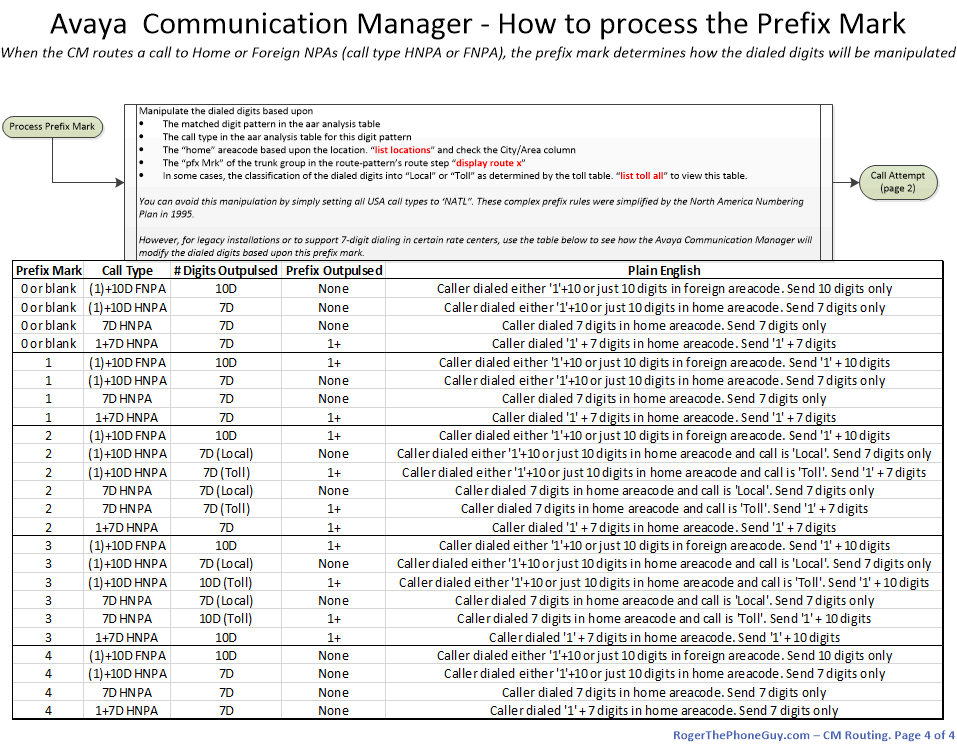 Please note there are two extremely important troubleshooting tools when dealing with Avaya routing. One, is the 'list ars route-chosen' and 'list aar route chosen' commands, and the other is the 'list trace station' and 'list trace tac' commands. If you use Avaya Site Administrator, you will not be able to use the 'list trace' command. I encourage you to use telnet or ssh in your day-to-day management of your PBX so you can use these commands when necessary. It may not sound like much, but being able to list trace at a moment's notice is very helpful.
I will save the "list aar/ars route-chosen" and "list trace station/tac" for another posting. There's a lot of information available in these commands.
Please let me know if you find these flowcharts helpful. Also, if you find any typos please let me know. Please keep in mind there are many more routing decisions the CM makes that are not in these flowcharts. If your CM uses other routing (for example tenants or time-of-day) and you think I should incorporate them into these flowcharts, please let me know! Happy routing everyone. This is really the core of any PBX, so I personally really enjoy working with routing.
Roger